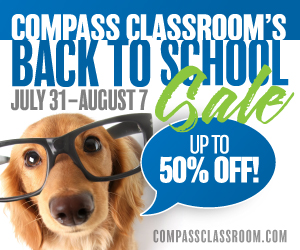 Some of my FAVORITE homeschool materials have come from Compass Classroom. I was first introduced to Compass Classroom years ago through the Visual Latin Program. This video-based program is FUN! Try it out for free with
6 FREE Visual Latin Lessons!
We have also used Dave Raymond's American History, Word UP!, Economics for Everybody, Grammar of Poetry, and parts of Old Western Culture: Greeks. (Although my daughter has graduated from high school, I'm planning to finish this course on my own. It is SO interesting!) The video-based lessons for each of these programs are easy to use and my daughter has loved each one.
This is a good chance to check into these courses, since Compass Classroom's back-to-school sale is going on right now. Honestly, the best deal is the Classroom membership, which offers access to most of the courses for only $29 a month.